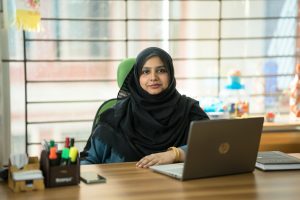 Dear Parents and Guardians,
It is my utmost pleasure and honor to welcome you to the Canadian Maple International School. As the Vice Principal of the School, I feel very fortunate to work with many dedicated, innovative and caring staff members, parents and students. Each day is filled with new experiences and learning for all.
Canadian Maple International School's curriculum and practices are consistently reviewed to ensure that we are following the most updated best available, meeting all regulations, and addressing the future needs of our students. Our staff consistently follows current trends and in collaboration with administration, creates a plan of action to incorporate those trends that are most appropriate into the classrooms. One of the largest areas of growth is the increased use of technology in our classrooms.
The students at Canadian Maple International School are offered numerous and varied opportunities to explore their interests and investigate new ideas. We offer many clubs, activities, sports and a large variety of various ventures that our students can participate in. Most of our students are involved in a variety of extracurricular activities that allows them the opportunity to grow at their own pace in a safe and secure
environment. Our list of clubs, activities and other extracurricular offerings are broadened each year in
hope to have something that interests every student.
I consider myself blessed to be a team member of the Canadian Maple International School. Each day I am amazed by the little things the people of our school community do for one another. It is these daily reminders that make our school unique and special.
Please make time to visit our school with prior appointment. As always, please feel free to contact me with
any queries or concerns.

Enjoy your day,
Amreen Hussain